...I do a cameo :)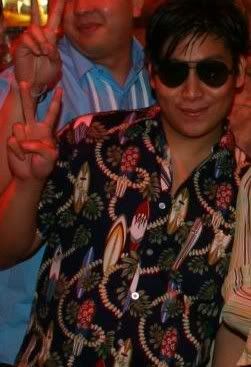 An inconspicuous-looking SoloFlite at the retro-themed company party last friday(before he met up with ever-dependable partner-in-crime Jose Cuervo to bring laughter and merriment to all...)
________________________
Geez. I think I gained 10 pounds in 3 days! The past weekend has seen me eating and drinking uber-cholesterol/sugar/alcohol laden food and drinks. Damn these parties!
I had (mainly) lechon for lunch and dinner since saturday. And today, being sick of stuffing up all that fat down my arteries...
I went for the healthier option: SeaFood...
Though I dont think enough vitamins, minerals, anti-carcinogens and immuno-enhancers can be supplied by Alige ng Chili Crab... :)
Damn. I think my life expectancy has just been reduced by another year..